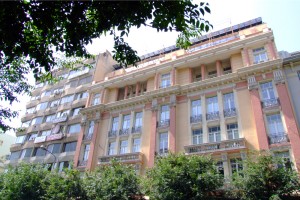 Course
Master in Digital Media, Communication and Journalism



Address
School of Journalism and Mass Communications, Egnatias 46, 54625, Thessaloniki, Greece


Telephone
+30 23 1099 2072


E-mail address
troullou@jour.auth.gr


Web address
media.jour.auth.gr


Type of course
Online flexible blended learning


Length of course
12 months, 2 course semesters: 1st: Winter semester from October to January, 2nd: Spring semester from February to June, 3rd: from July to September for the research and writing of the Dissertation Thesis


Date of commencement
October 1st


Class size
Minimum 5 and maximum 15 attendants


Cost/Fees
Total cost for 12 months is set to 3000 euros


Student grants / Financial assistance
Three (3) financial aid scholarships to foreign students at the beginning of the studies plus one (1) merit scholarship at the end of the winter semester


Student profile
1. Ratio of National / Overseas students - 2 to 1
2. Ratio of Men / Women 1 to 2
3. Age range - 24 – 38 years old


Admission requirements
1. Applicants must hold a Bachelor Degree from an accredited university or advanced technological educational institute, at a 2.1 level or equivalent grade (eg. B, very good, etc) from a variety of disciplines, namely Journalism, Communication, Advertising Marketing, Political, Social and Cultural Studies, Economics, Comparative, European and International Studies, History, Anthropology, Psychology, Sociology, Philosophy, Archaeology, History of Arts and Foreign Languages.

2. Two reference letters

3. Students whose native language is not English and/or whose principal language of university instruction was not English must provide evidence corresponding at least to the level C1 of the Common European Framework (CEF) proficiency levels. Specifically, acceptable evidence includes: an overall score of at least 7 in the British Council IELTS test, or a score of at least 100 in the TOEFL iBT test, or 600 in the TOEFL PBT test, or a score of at least 76 in the PTE Academic test, or Cambridge English Advanced (CAE).


Programme Director
Gregory Paschalidis, Associate Professor of Cultural Studies


Contact for applications
Maria Troullou, administration officer