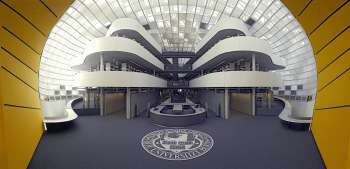 ©
Philipp von Recklinghausen

Course
Master of Arts in International Relations Online



Address
Freie Universität Berlin, Center for Global Politics, IR Online, Garystr. 55 14195 Berlin, Germany


Tel.
+ 49 (0)30 838 55476


Fax.
+ 49 (0)30 838 53616


E-mail address
sabine.pag@fu-berlin.de


Type of course
Distance learning / Blended-learning


Length of course
2 or 4 years


Date of commencement
1 February


Application Deadline
October of each year


Class size
25–30 students per class


Exchange partner schools
Virtual exchange: The Aleksanteri Institute, University of Helsinki


Student profile
1. Ratio National : Foreign students - app. 1/4
2. Average Age - app. 30


Admissions requirements
Applicants for this program must hold a first university degree (B.A., M.A., diploma, state examination, or equivalent) preferably obtained in - but not limited to - the humanities and social sciences, including political science, law and economics. Applicants in other fields of study are encouraged to apply, although such applications will be subjected to close review.

In addition, applicants must have at least one year of relevant postgraduate work experience and need to be fluent in English. If English is not your native language, a language certificate verifying English proficiency is required. For the "Test of English as a Foreign Language" (TOEFL) a score equivalent to or higher than 550 points for the paper-based test, 213 points for the computer-based test or 79 points for the internet-based test is required. Alternatively, we accept the "International English Language Testing System" (IELTS) and the "Cambridge Certificate" at the same level of language proficiency.

To successfully complete the program, applicants need to have reliable access to adequate electronic equipment – specifically internet access and a computer capable of working with multimedia course materials.

Applicants must provide a certified translation for all documents written in any language other than German or English.